Yoga is a powerful discipline that can benefit your mind, body, and soul — if you are dedicated to it. Your life can become more focused and peaceful, as you build your mental, physical, and emotional strength. According to the National Center for Complementary and Integrative Health, yoga can provide a number of health benefits, from relieving back pain to helping manage anxiety and depression.
Of course, so many of us have had our regular yoga routines interrupted by the arrival of COVID-19 and subsequent studio closings. But if you want to continue advancing your practice during the pandemic, you can still do so. If you're comfortable with taking a trip, you can book a stay at Azul Guesthouse and practice yoga on our large terrace or in a group class. You can also try the following tips to enhance your practice:
---
Create an Awesome Yoga Space at Home
When you can't travel to a yoga destination or get to the studio because of the pandemic, you can get in your yoga sessions at home. Creating a dedicated yoga space where you can be mindful in your home doesn't take very much work. Pick a low-traffic spot, preferably on a hardwood or tile floor. The room should have plenty of natural light and be free of any clutter because a dark and messy space can create negative energy and make you lose focus.
Ideally, the room would have a focal point on which you can focus. Your personal focal point could be a Buddha statue, a painting, or whatever brings you peace. An essential oil diffuser can be also used to enhance the mood of the room with soothing aromas. You'll need a CD player or other source of music. The music you use in your sessions is up to you. Many people like Eastern-influenced music with plenty of drums and chimes, while others prefer classical music. Whatever yoga music you choose should speak to your soul.
While practicing yoga at home, you can follow along on YouTube videos or different yoga apps to try new poses. Down Dog, for instance, allows you to take tutorials with you on the go.
---
Hold Your Poses Longer
One of the best ways to kick your yoga sessions up a notch is to try to hold your poses for longer periods of time. If you are practicing Vinyasa yoga and going from one pose to the next, you might be only holding your poses for five seconds. Try to push yourself to get up to 20 seconds. In other types of yoga, it depends on the poses. If you only get five to 10 controlled breaths per pose, then try to add two additional breaths the first week, eventually working up to 30 breaths per pose. Holding your poses longer will build physical strength and allow you to release negative emotions and accept positive ones.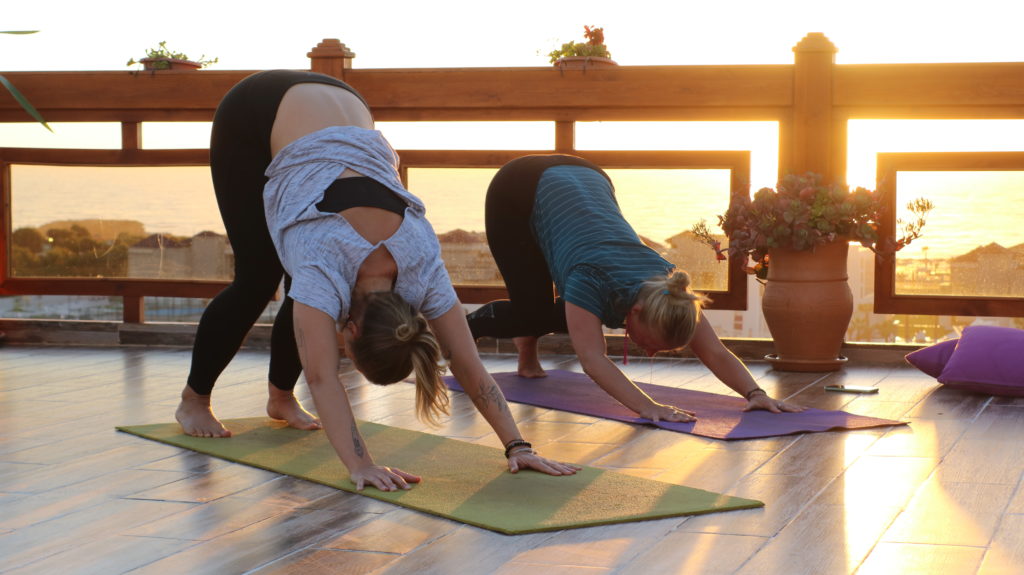 ---
Study the Philosophy Behind Yoga
You probably know that yoga is a discipline that focuses on the harmony of the mind, body, and spirit. However, do you know much more about the origin and philosophy behind yoga? By reading various texts about yoga, you'll have a deeper appreciation of the practice and can take your own yoga sessions to a deeper spiritual level. Find book reviews and other recommended resources online to learn more about the history and philosophy of yoga.
When you practice yoga, you don't just want to get stronger and more flexible — you want to have a better sense of personal awareness and enhance your life spiritually, too. With the above tips, you can still take your yoga practice up a notch during the pandemic.
Wondering where to take your next vacation? Consider a beach house getaway at Azul Guesthouse, where you can practice yoga and surfing.
Written by Sheila Johnson.