Discover the Surf Spots
Taghazout Bay, Morocco
The Moroccan coast is full of surfing spots.
Here are the main spots we visit regularly!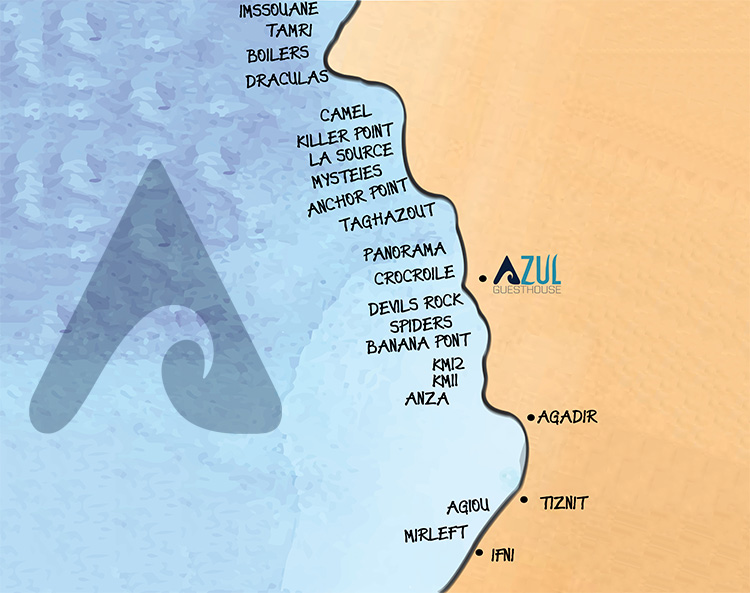 Devils Rock
Surf Level: All levels
Sand bottom beach break. Just a 10-minute walk from Azul Guesthouse this is our local break and it's also the most consistent throughout the year. It's a great surf spot for beginners and improvers. Can be crowded on the weekends in holiday season with locals. Relaxed vibe and café choices on the beach.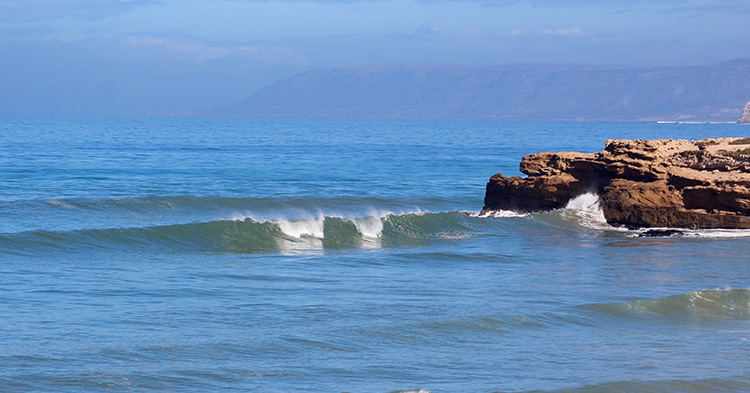 Banana Point
Surf Level: All levels
Beach tucked between the usually dry Tamraght rivermouth and rocks offering some northerly wind protection. A long easy right can break from the point, otherwise it's a beginners beach break, which explains the surf schools in the village.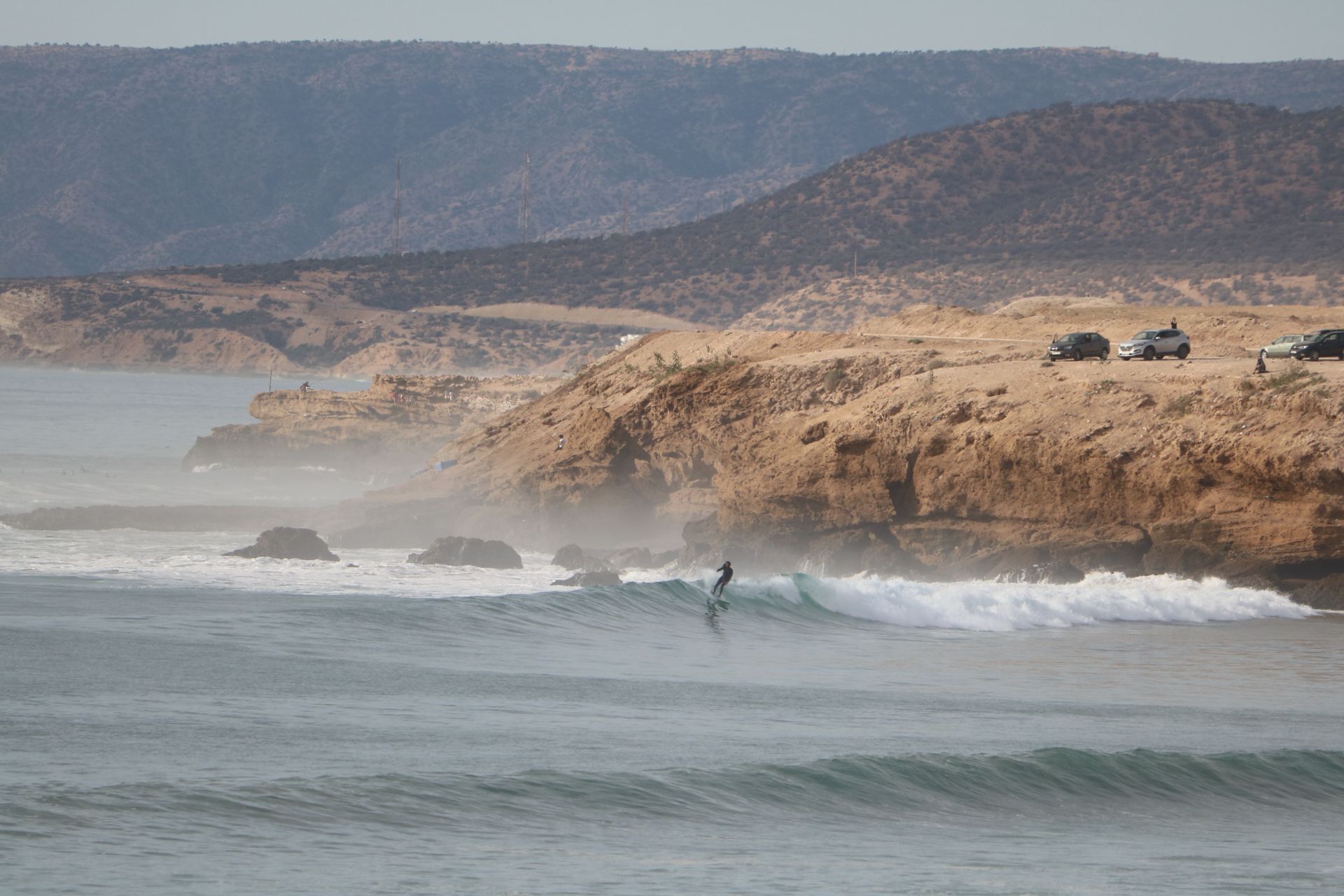 Spiders
Surf Level: Experienced
A very shallow and powerful reef break that's only suitable for experienced surfers due to the large, hollow waves that often break into rideable tubes.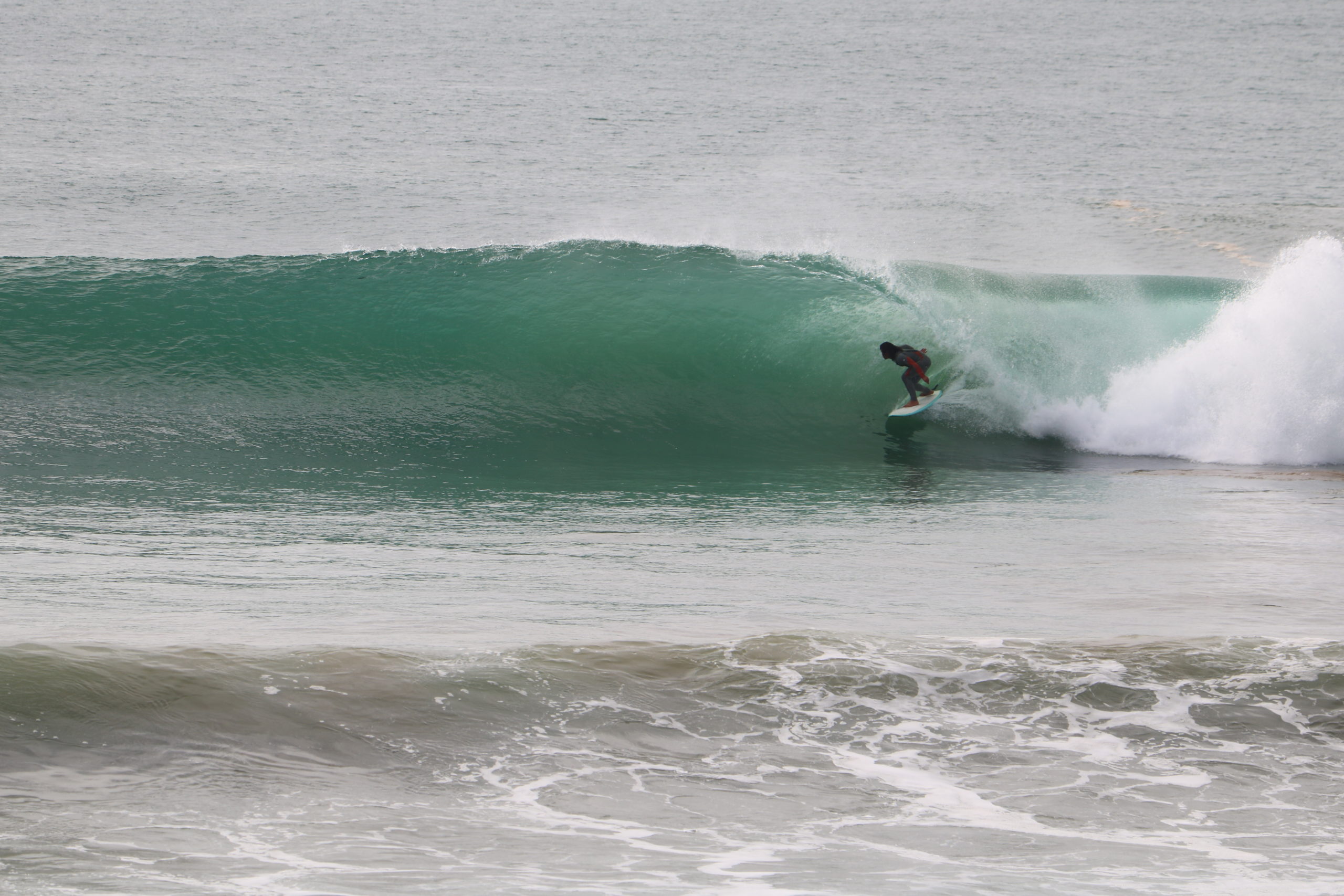 Anchor Point
Surf Level: Experienced
Long NW swells that reach from 3ft to 15ft have earned Anchor Point the title of a world-class surf break. First surfed in the 1960s, since then it has become one of Morocco's favourite surf spots. It's easiest to come in at one of the coves and walk back to jump off at the end between sets. Works on all but high tides, unless it's huge, which is when it may be possible to ride back to Taghazout. It's worth visiting, even if just to observe the way the wave breaks.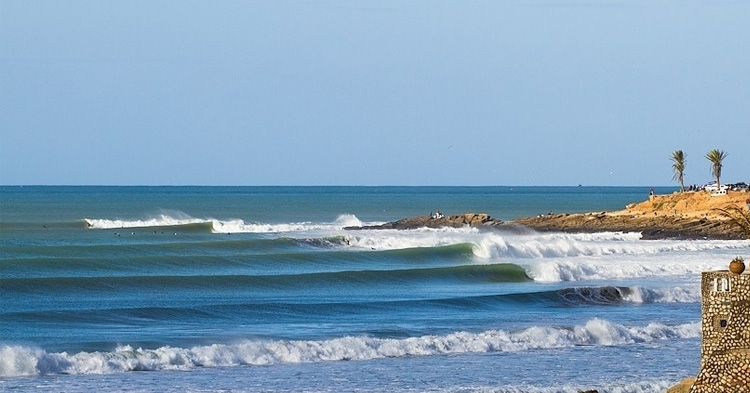 Panoramas
Surf Level: All levels
Most popular amongst long boarders and beginners. Long sweeping right hander, easier than Anchor Point but the current can tricky to paddle against. Panorama's also offers great waves for intermediate surfers once the wave hits 5ft. When the wave is this high, beginners should be cautious as the shore break can be tough when the swell is large. Panorama's can often offer longer rides than its neighbouring breaks.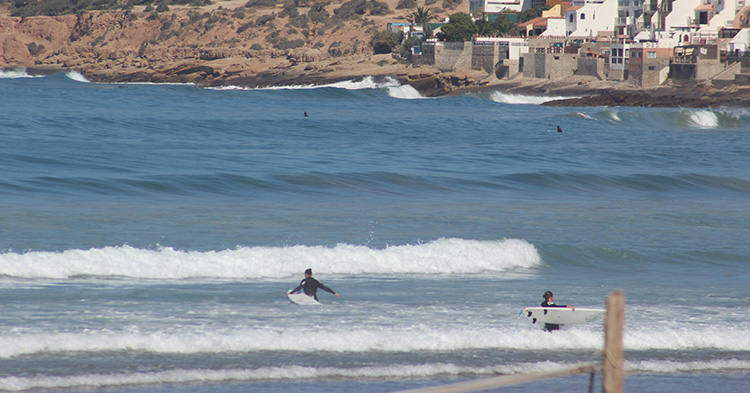 Anza
Surf Level: All Levels
A 10-minute drive south from us, on the outskirts of Agadir. This awesome spot has a peaky, steep left which sits on a reef, and a mellower, pealing right on the sand. The middle section works too so there's loads of space for everyone.
It works best at high-tide.
This beach is also perfect for beginners, there is a large beach break where you can surf in the white water and if there is not so much of swell you can practice to take open waves. A few cafes and restaurants nearby.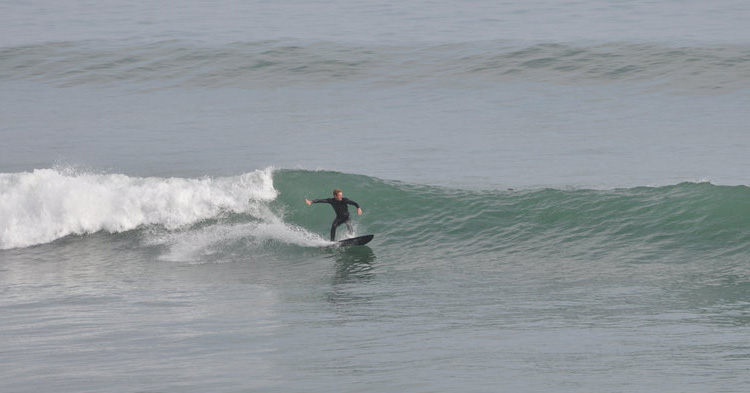 Tamri
Surf Level: All levels
It is 45 minutes by car north from Azul Guesthouse, a consistent beach break. Strong currents. This is usually the place to go when the spots around Tamraght and Taghazout are flat.
Quick back sections pay privilege to an even more constant beach push, strong currents at times but a fun ride all the same. For beginners just be aware how far you have drifted down the coast.
The estuary is home to camels and flamingos, a truly beautiful spot.
For more experienced surfers, there is normally a great left hander off the sand bank in front of the cliff.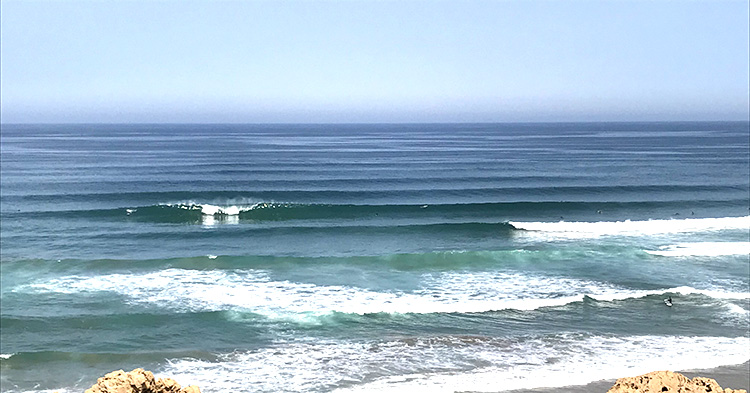 Imsouane – The Bay
Surf Level: All levels
Imsouane is a pretty little fishing village. Known for its long waves, the view of The Bay from above shows beautiful regular right-handers that take you from one end of the bay to the other.
One of the longest rides in Africa, you can ride the wave for 600m. Improvers can enjoy a long whitewash down the front to perfect their pop-up. Best time to get in is mid-low tide when the waves are at 1.5m high for big, strong and long regular waves.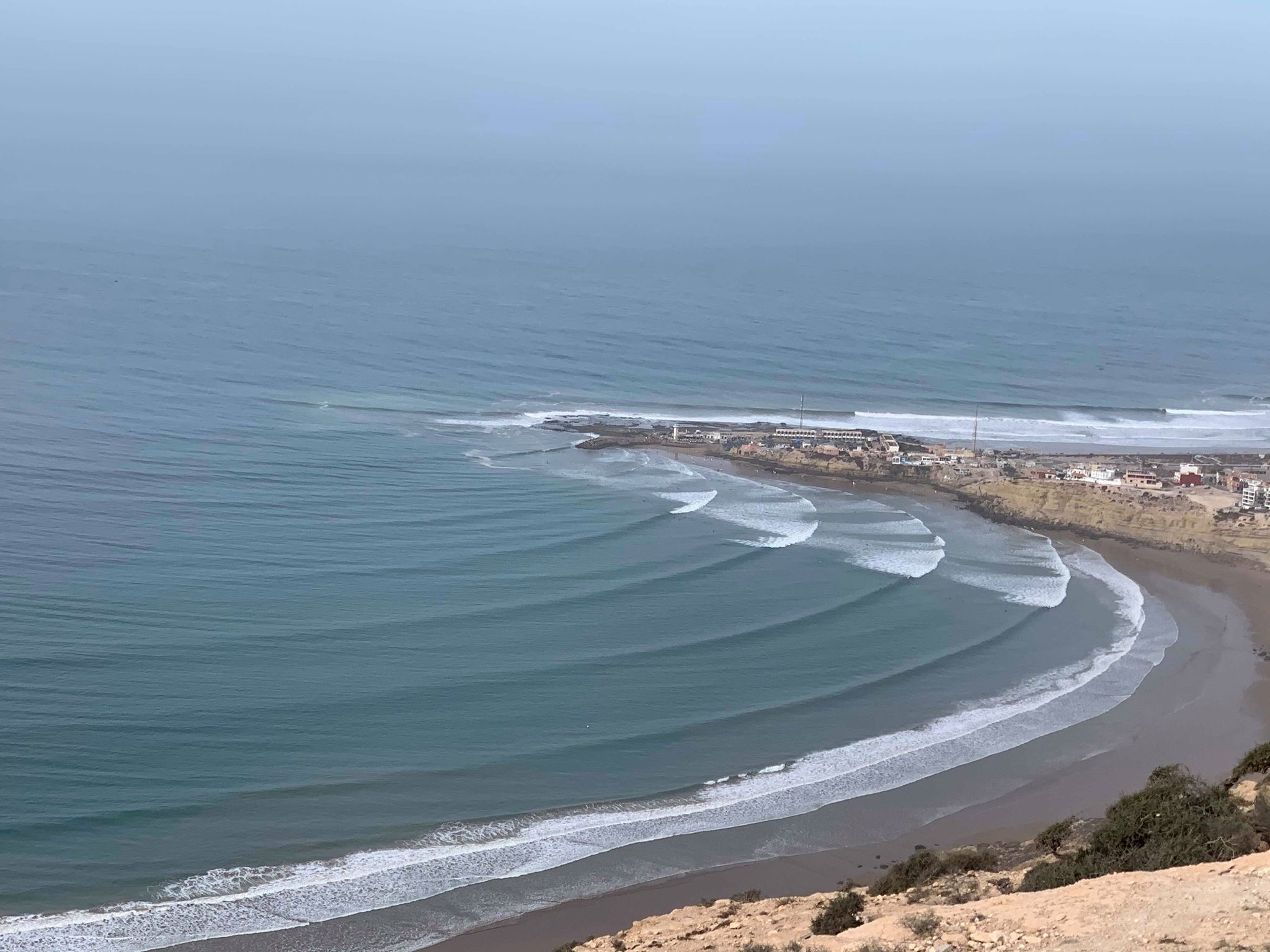 Imsouane – Cathedral Point
Surf Level: All levels
Positioned on the other side of the bay, Cathedral delivers surfers beach, reef and point breaks with strong waves for all surfers! The point break is the more intermediate spot popular with short and bodyboarders.
This break delivers fast, powerful right-hand waves, especially with an east offshore wind. Low tides can bring in steep peaks and barrels, with 1.5m waves being the sweetest to shred.
The beach break, on the other hand, can be great for both improvers and beginners with both left and right waves from multiple peaks. Performing best at high tide with 1m waves, this sandy bottom break gives powerful waves that are great for all surf levels and boards.