Everyone who has visited Morocco at least once has been struck by the lively or more sobers colors of the carpets. Many now shop for a piece of artisanship to decorate their own house. In this blog, we will explore the Moroccan carpets' history and distinctiveness.
Quick history of Moroccan Carpets.
While we are mostly using these carpets now for decoration purposes, their history is to be traced back as far as the 7th century. At that time local Berbers tribes started to manufacture these carpets, and are still doing it today.
Today some carpets are still manufactured in the traditional way, and on the same weaving looms. Every model is thus far unique: it will differ depending on which tribe weaved it. These traditions are passed from mother to daughter through generations: Berber women are therefore telling the stories of their culture through the weaving of these pieces of art. Each carpet is a reflection of the history of the region and the tribe that produces it.
It is true that some carpet qualities today may have diminished due to the rise of industrial production. And yet most of the rural mountain regions have kept their tradition alive: in these remote regions, you will find the most beautiful and sought-after carpet.
A region, a carpet !
Carpets are weaved with sheep wool and have many usages. They are used as clothing, funeral coverage, and mattresses. The wool sheep are first spun manually. Then different pigments from natural origin (fruits, minerals, leaves, herbs, spices…) are used to dye the fibers.
There are many techniques used to produce a carpet : weaving, tyeing and embroidering. Depending on the techniques used, carpets will be either comfortable, soft and warm or fancy, colorful and original.
There are three main types of Berber carpets:
– Beni Ouarains carpets: they have black geometrical motifs on white surface, they are woven with a thick wool.
– Azizal carpets: they are livelier, colorful and they are woven with a shorter wool height.
– Boucherouïte carpets: they are made up of recycled fabrics and are usually very colorful.
Each Moroccan region has its tribes and thus their carpets. With more than a dozen of tribes, the Central Atlas has a very broad diversity of carpets.
– Azizal carpets. They are produced in the region of Beni Mellal. They are very colorful and shimmering. The color used depends on the season during which they are woven.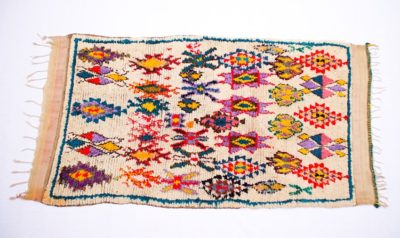 – Beni Ouarain carpets. The eponymous tribe living in the Central Atlas mountains produces them. Their distinctiveness lies in the the thickness of the wool used and the natural ivory and black colors of the wool. The motifs are refined and geometrical.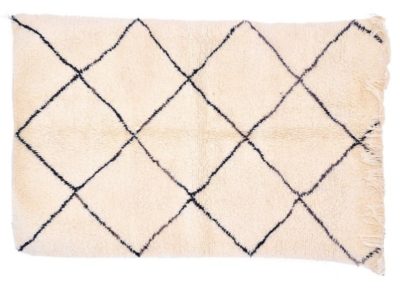 – Boujaad carpets. Two mains things differentiate them from others carpets: they are made up of lively and shining colors and they have a vintage look.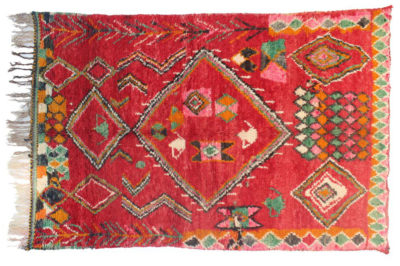 – Beni M'Guild carpets. They are produced during the harsh winters of the Atlas mountains. Thus, their thickness is what make them unique. Esthetically speaking, they have geometrical motifs scattered randomly over a bright background (red, orange, indigo, magenta or pink…)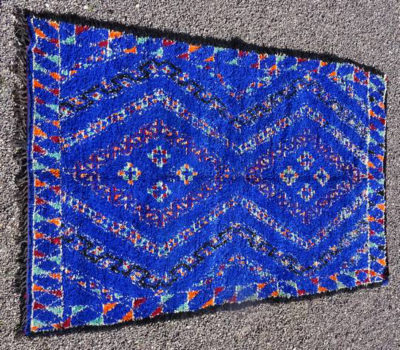 – Beni M'rirt carpets. They are produced in the Khenifra region known for its harsh winter as well. Their carpets are a reflection of the weather: very warm, comfortable and with a thick weaving. They are usually off-white or blue with Beni Ouarains's looking motifs.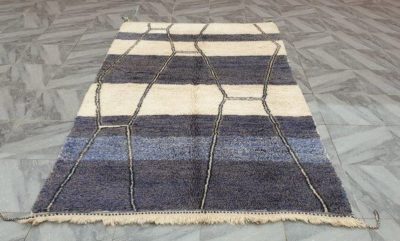 – Zemmour carpets. Produced mainly through tying techniques, they are usually red, orange or yellow.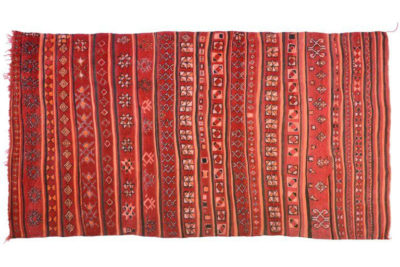 Many other carpets come from Central Atlas including Ait Youssi carpets, Guerrouane carpets and Oulmes carpets.
The High Atlas has its share of carpets as well such as the Glaoua carpets produced by the Aït Ouaouzguites tribe living between Taznakhet and Ouarzazate.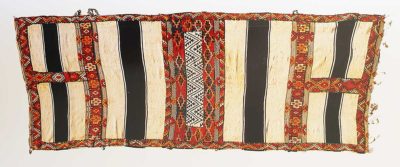 Last but not least, South Morocco has a very rich carpet culture as well. One of the jewel of the region is the Taznakht carpet. It can take up to 9 months of work. Its fibers are dyed with saffron, mint, henna, making it a very rich and sought after carpet.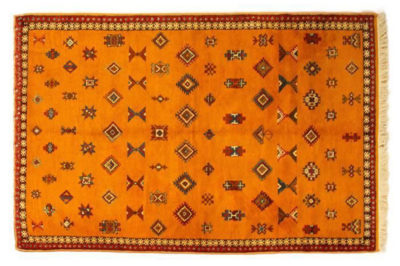 Come visit our shop and find you will find a selection of some of the best Moroccan carpet !